Amino: end to end solutions for the industry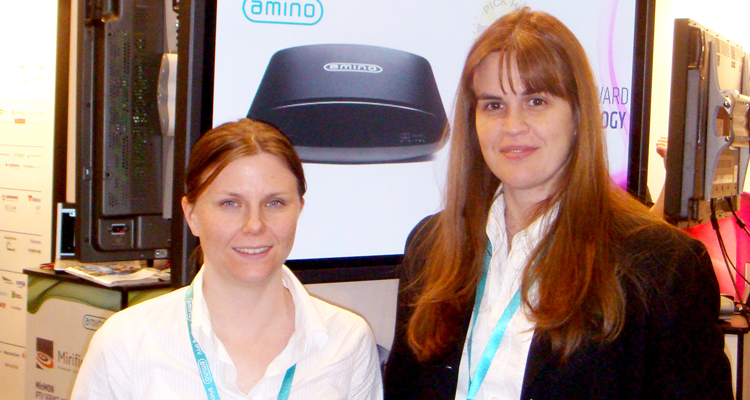 Sandra Conejos, VP of Sales for LatAm and the Caribbean at Amino, highlighted to Prensario that the company's solutions are suitable for all types of service operators who want to easily implement, manage and control their systems.
The executive underlined the importance of television for the company. 'Amino customers stream video to their subscribers who have more options to get the content they love, they can use their tablets, smartphones, computers, but the TV is still important to them. Television continues to be an essential element for them and the average number of televisions per household ranges from 1 to 3 depending on the country. '
Conejos mentioned the growth of streaming and how they have helped customers. 'Customers have more places to access video. This means that the consumer has more options to get the content they want. Now many TV operators are including access to these streaming services through their television offering. The availability of Android TV devices has helped bring all of these streaming services from different sources to one place, the main TV.
Amino plays a very important role as we are able to provide different elements of the solution and in addition, we have our excellent group of engineers and video specialists who can help our clients to put together End-toEnd solutions. For our customers, Amino's guidance is as valuable as our stable and reliable solutions that help TV service operators offer a complete service.
We have also incorporated applications that help operators in managing the service. Our Engage platform enables service operators to easily deploy, manage and monitor their systems by making changes remotely and allowing them to learn more about their users' preferences. We have the ability to help them improve their user interfaces through one of the group companies, 24i '.
Solutions for business customers
'The company is a market that I like a lot because all the projects are unique and require a reliable and flexible partner like Amino. Over the years we have worked on many different projects with a wide variety of technology partners, we have our devices installed in cruise ships, hotels, hospitals, Universities, schools, stadiums, department stores, oil refineries, military, government, cinemas, planes, even prisons.
The type of services remains the same; however, the changes are related to advances in technology. Some examples include customers looking for 4K graphics and 4K video support, H.265 support, DASH support, more memory, availability to install APPs and PoE '.

Amino is a trusted partner and global provider of innovative, scalable media and entertainment technology solutions. Our solutions provide our customers with options for moving their video business forward in the way most practical for their situation.
Whether it is adding streaming content to their existing channel line up or breathing new life into legacy devices via upcycling. We can enable hybrid delivery, taking advantage of existing DVB infrastructure while also delivering OTT content. And we enhance customer support and device lifecycle management with a centralized, SaaS platform providing greater insight into deployed devices.
In a market where open systems are of increasing interest, our software-based solutions are platform agnostic.

ur device platform software, AminoOS, powers our own devices and can also be deployed in 3rd party devices. Similarly, our service management platform, Engage, can provide insight about Amino and 3rd party devices. In all cases the goal is to give operators the agility to extend existing service capabilities to attract and retain subscribers.

The result is a fresh approach to aligning the needs of our operator customers with those of their subscribers. The end result enhances reputation, stems churn, grows subscribers and increasing average revenue per user (ARPU).