La televisión en todas sus formas, y en particular la TV lineal abierta y paga, enfrentan un presente complejo y un futuro más complicado aún, en función de una serie de circunstancias que la colocan en una situación que requiere soluciones, tanto tecnológicas como de concepto, para seguir prosperando.
Hay una serie de razones, de las cuales nos enfocaremos en cuatro en particular, que se potencian a partir de situaciones independientes entre sí. La pandemia Covid-19 es una de ellas, pero que actúa como acelerador y fortalecedor en la integración de las tres restantes en algo más complejo y difícil de resolver. Vamos a analizarlas y ver de qué manera se pueden mitigar los peligros.
Estas condicionantes son:
La pandemia obliga a cambiar la forma de producir contenidos. Al ser riesgosa la cercanía de actores, actrices y técnicos entre sí, muchas filmaciones han sido postergadas y lo que debe ser emitido 'en vivo' debe respetar severas normas de distanciamiento. Esto podría solucionarse en parte, a mediano plazo, con software basado en lo que se utiliza en cinematografía para generar escenas de conjunto a partir de filmaciones individuales y efectos visuales, como en la serie de HBO 'I Know this much is true', con Mark Ruffalo interpretando a dos hermanos mellizos. Esto es un desafío tecnológico, pero también va a resultar costoso no tenerlo. Por otra parte, en los últimos años ha habido un gran aumento en la producción de novedades, para satisfacer la demanda de Netflix, Amazon Prime Video y otros, pero las restricciones a la producción van a afectar esta tendencia a lo largo de este año 2021 y obligar a buscar en los archivos de Hollywood y otras fuentes de contenidos, generando una demanda latente por la necesidad de las OTTs de 'refrescar' su oferta permanentemente para evitar en los usuarios la fatiga y el "churn" (rotación).
La generación Z se niega a pagar por ver contenidos: los jóvenes acostumbrados a Internet y sus contenidos supuestamente gratuitos son en su mayoría reacios a pagar por las experiencias audiovisuales programadas y, cuando lo hacen, tienen topes de aceptación menores. Esto lo sienten los operadores de TV paga lineal por cable y satélite con los denominados "cord cutters" (los que 'cortan' el cable) y los "cord nevers", que nunca estuvieron suscriptos. El fenómeno se acentúa en los países donde existe abundante provisión de canales de TV de aire, ofreciendo una mayor variedad de programación que las regiones donde las opciones son escasas. El otro factor desencadenante es la creciente penetración de Internet, que ha superado a la de TV paga en la mayoría de los países y ofrece oportunidades a los "influencers", personas que resultan atractivas a las audiencias y que, junto con las redes sociales, están canalizando una creciente proporción de los presupuestos publicitarios de los anunciantes antes enfocados en radio, televisión y gráfica.
Smartphone, la principal manera de ver contenidos: El 'en cualquier momento, en cualquier lugar' lleva al también creciente grupo de usuarios propietarios de "smartphones" a descartar la televisión lineal como medio de entretenimiento y a consumir contenidos cuando tienen tiempo libre. Si bien las emisoras de televisión abierta y paga ofrecen en "online" cada vez mayor proporción de sus contenidos, los usuarios jóvenes no se ven atraídos y prefieren los videojuegos –experiencias participativos en lugar de pasivas–, los videos cortos -–TikTok, Instagram—y la compañía de los "influencers", que en la pantalla grande resultarían patéticos pero en los teléfonos parecen ejercer una especie de 'privacidad acompañante'.
Suben costos de producción y derechos a pagar: con producciones cada vez más ambiciosas y costosas, superando frecuentemente el millón de dólares por episodio, se han generalizado las co-producciones de ficción entre distintos medios y diferentes países –esto es visible en Escandinavia— que permiten estas inversiones, y complicado la vida de los canales deportivos lineales, por la creciente inviabilidad económica, pese a los fuertes ingresos publicitarios por la existencia de millones de usuarios. La "piratería" (transmisión ilegal, sin derechos) de estos contenidos es otro dolor de cabeza y no ha logrado ser combatida –hasta ahora—de modo eficaz, porque surgen diferencias entre las partes sobre quién debe hacerse cargo de los costos y gestiones legales que implica detectar y castigar a los infractores. El problema es común tanto a los sistemas lineales como al Streaming, y mucho más grave en el entorno digital de lo que fue en el analógico.
A diferencia de la pandemia, nada de esto es mortal, pero la influencia de estos y otros factores se irá reflejando en el futuro cercano, y puede hacer fracasar muchos proyectos bien enfilados. La industria del Streaming está basada en el modelo "Silicon Valley" de constante ampliación del mercado, a diferencia del modelo "Hollywood" que exige ganar dinero en cada etapa de la trayectoria de un producto, en este casos los contenidos audiovisuales. Hoy, nadie tiene la respuesta y, como en toda época de disrupción, 'los errores son baratos' y los planes de negocios exigen ser readaptados –en función de la data de los usuarios que se recibe—para mejorar los resultados.
Salir del laberinto es posible, pero está el riesgo latente de que mucha gente y empresas de la TV queden atrapadas en su interior. Esperemos que no.
TV in its labyrinth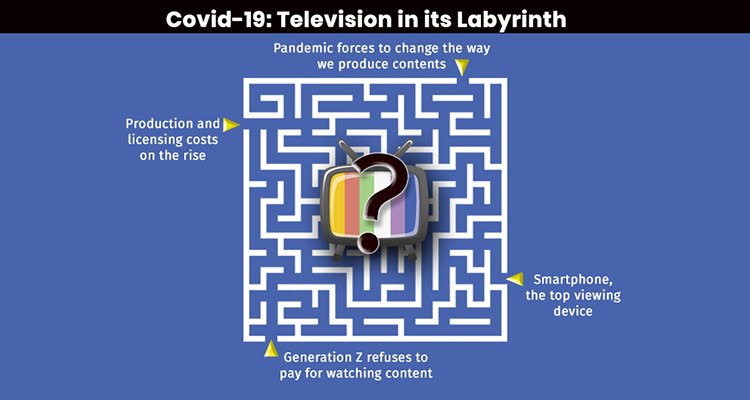 Television in all its forms, and especially linear FTA (free-to-air) and Pay TV, faces a complex present and an even more complicated future. This is due to a series of circumstances that place it in a situation that requires solutions, both technological and conceptual, to keep growing.
There are a number of reasons, of which we will focus on four, emerging from situations independent among themselves. The Covid-19 pandemic is one of them, but it acts as an accelerator and reinforcer in the integration of the remaining three into something more complex and difficult to solve. We are going to analyze them and see how the resultant dangers can be mitigated.
These conditions are:
a) The pandemic forces to change the way content is produced. Physical proximity of actors and technicians is risky, a large part of shooting has been postponed, and what must be broadcast «live» must respect strict rules of distancing. This could be partly solved, in the medium term, by software based on what is used in cinematography to generate visual effects scenes, as in the HBO series 'I Know this much is true', with Mark Ruffalo playing twin brothers. This is a technological challenge, but it is also going to be expensive not to have it. On the other hand, in recent years there has been a great increase in the production of new product, to satisfy the demand of Netflix, Amazon Prime Video and others. But, these production restraints will affect output throughout this year and force people to search Hollywood archives and other content sources. And will result in latent demand, due to the need for OTTs to permanently 'refresh' their offer to avoid subscriber fatigue and churn.
b) Generation Z refuses to pay for watching content: young people used to the Internet and its supposedly free content are mostly reluctant to pay for scheduled audiovisual experiences. And, when they do, they have lower acceptance limits (the famous iTunes $1 threshold). This is felt by linear cable and satellite pay TV operators through the so-called "cord cutters" (those that 'cut' the cable) and the "cord nevers", which have been never subscribed. The problem is accentuated in countries where there is abundant supply of over-the-air TV channels, offering a greater variety of programming, than in regions where options are scarce. The other triggering factor is growing Internet penetration, which has surpassed that of pay TV in most countries and offers opportunities to "influencers", people attractive to audiences that, jointly with the social networks, are obtaining a growing proportion of the advertising budgets of advertisers previously focused on radio, television and print media.
c) Smartphone, the top viewing device: The 'anytime, anywhere' leads the also growing group of users who own "smartphones" to discard linear television as a means of entertainment, turn to consuming online content every time they have free time. Although free and pay television stations do offer an increasing proportion of their content online, young users are not attracted to this and prefer videogames (participatory rather than passive experience), short videos-–TikTok, Instagram — and the "influencers" company, who on the big screen would be pathetic but on phones seem to exercise a kind of 'accompanied privacy'.
d) Production and licensing costs on the rise: with increasingly ambitious and expensive productions, frequently exceeding one million dollars per episode, fiction co-productions among different media and different countries have become widespread –this is particularly visible in Scandinavia– that allow these investments. This also complicates the life of linear sports channels, resulting in growing economic unviability, despite the strong advertising revenues resulting from millions of users. The "piracy" (illegal transmission, without rights) of this content is another headache and has been fought –until now– effectively, because differences arise between the parties regarding who should bear the costs and legal procedures needed to detect and punish offenders. The problem is common to both linear and streaming systems, and much more serious in the digital environment than it was in the analog.
Unlike the pandemic, none of these problems is fatal, but the influence of these and other factors will be reflected in the near future, and can derail many well-aligned projects. The Streaming industry is based on the "Silicon Valley" model of constant market expansion, unlike the "Hollywood" model that requires making money at each stage of a product's trajectory, in this case audiovisual content. Today, no one has the full answer and, as in all times of disruption, «mistakes are cheap» while business plans require re-adaptation (based on the user data received) to improve results.
Exiting the labyrinth is possible, but there is a latent risk that many people and TV companies will remain trapped inside. Hopefully not.
Please follow and like us: