Brainstorm: apresentações virtuais fáceis e acessíveis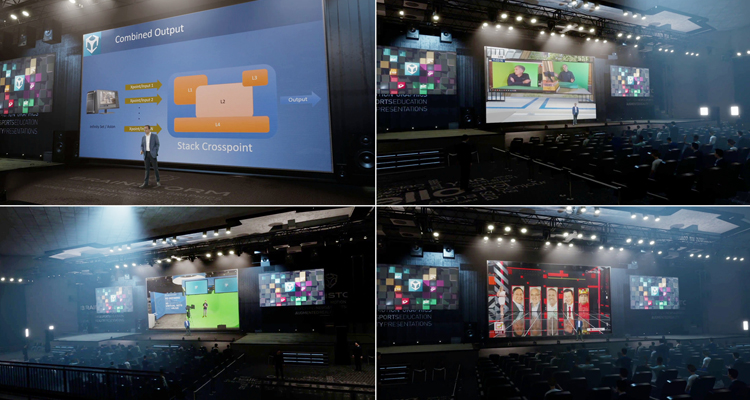 A Brainstorm é referência na produção de conteúdo virtual há décadas e, com base em sua reconhecida tecnologia 3D e AR / VR para transmissão, apresentou o Edison Pro. Com essa nova solução, qualquer usuário pode levar seus eventos ao vivo e apresentações corporativas a outro nível.
Edison Pro é um aplicativo baseado em um modelo inovador, acessível e fácil de usar que busca transformar qualquer apresentação ou conferência ao vivo ou online em uma experiência imersiva por meio de ambientes virtuais e AR. Os usuários podem aprimorar sua narrativa com gráficos 3D em tempo real e outros recursos visuais, além de serem integrados à sua apresentação. O Edison Pro já vem com uma extensa biblioteca de objetos embutida e é compatível com qualquer fluxo de trabalho padrão.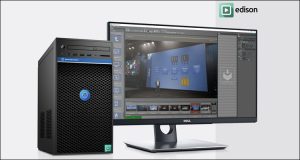 Com uma interface extremamente simplificada e usando uma operação do tipo arrastar e soltar, os usuários do Edison Pro podem criar apresentações atraentes a partir de documentos PowerPoint ou PDF, e sem a necessidade de conhecimento específico em 3D, estudos virtuais ou vídeo. A partir daí, Edison Pro permite criar excelentes apresentações em apenas três etapas: 1) Escolha um modelo da biblioteca. 2) Faça upload da apresentação em PowerPoint ou PDF. 3) Personalize a cena.
Você pode usar fundos virtuais 3D pré-existentes, incluindo cenas fotorrealistas criadas com o Unreal Engine, e adicionar imagens, vídeos, objetos 3D e animações da biblioteca Edison Pro ou qualquer outra fonte.
O Edison Pro tira proveito das tecnologias 3D avançadas do Brainstorm. Usando a tecnologia TrackFree™ do Brainstorm, o Edison Pro pega o sinal de vídeo da sua câmera e cria visualizações virtuais da câmera 3D a partir desse sinal. As câmeras virtuais são flexíveis, independentes do sinal ao vivo e podem se mover livremente no espaço, como pedestais ou guindastes em ambientes de produção ao vivo. Esse recurso expande o ambiente virtual muito além dos limites do ambiente físico.
Since 1993 Brainstorm Multimedia has been providing industry-leading real-time 3D graphics and virtual set solutions for all broadcast graphics types and workflows, as well as for feature film production and 3D real-time presentations. Brainstorm's customer list includes many of the world's leading broadcasters plus a large number of smaller and regional stations. Brainstorm is a broadcast graphics company focused on assisting our clients to create highly engaging visual experiences for their viewers, and our eyes are not only trained on how to provide the best possible graphics package and services, but also to ensure that they are fast, reliable and the best fit for the job at hand. Brainstorm's flagship product, InfinitySet, is considered the most advanced virtual set solution available in the market due to Brainstorm's patented and award winning TrackFree technology. Other Brainstorm's products include Aston 3D, eStudio, OnDemand, AstonWeather and AstonElections.